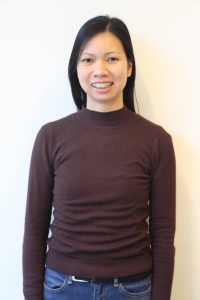 My ultimate goal as a food technologist is to uplift the quality of lives of my fellow people through food science and technology.
Hello! I am Sharmaine Atencio, and I am ESR 2. I am currently working hard both in my education and my career to prepare myself to become a world-class food technologist for the people. Earlier on, as a graduated Bachelor of Science in Food Technology from the University of the Philippines, I worked as a conformance analyst in two leading international companies, dealing with quality assurance of food, agricultural and chemical products. Bringing my skills internationally, I decided to pursue the Erasmus Mundus Master in Chemical Innovation and Regulation, wherein I am the first and the only food technologist in this inter-disciplinary master program. I took my courses at Universidade do Algarve in Portugal where I learned more about the management of chemical safety. Then, I completed a master thesis at the Department of Chemical Engineering of Universitat de Barcelona in Spain, investigating the influence of selected process parameters and materials in the production of alginate-based hydrogels and in the microencapsulation of ginger oil.
FOODENGINE has exceptional appeal for me because of its vital goal to foster interdisciplinary studies and collaborations in order to transform fruit, vegetables and legumes into high quality food that would be beneficial to the society. Given the structure of the program about designing future food products and processes, along with transferable skills development, I believe that this would direct my career path as a holistic food scientist who innovates food product and processes in the industry. With this, I am immensely grateful and honored, yet humbled, to be one of the FOODENGINE fellows. Focusing on my research topic, I will be investigating carotenoid stability as a function of the food chain, which would be helpful in the optimization of the production process of these natural colorants, being micronutrients at the same time. Under this topic, it is truly my honor to be supervised by recognized experts in the field of food science and technology, specifically by Prof. Ann Van Loey of KU Leuven and Dr. Kai Reineke of GNT, which is one of the leading manufacturers of natural colour solutions from fruits, vegetables and edible plants.
With my passion in food science and technology, I am very willing to dedicate myself in learning and expanding my knowledge in order to contribute to the main goals of the FOODENGINE project. Also, I would be very welcome and happy to answer any questions related to my research topic (show email).