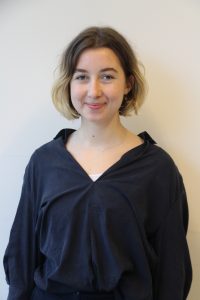 Hej, I am Lena coming from Germany where I started my journey in food chemistry at the Friedrich-Wilhelms University of Bonn. Writing my master thesis at the University of Copenhagen I linked microbiology and flavor chemistry. I not only deepened my knowledge in aroma analysis but also fell in love with Copenhagen. Now I am back and happy to follow up my studies linking aroma to sensory analysis while enjoying this beautiful city.
FOODENGINE combines many important aspects to me: international network, state-of-the-art technologies, travelling, multi-disciplinary exchange of knowledge and experience, and promoting plant-based innovations.
My long-term career goal is to work in the plant-based food industry implementing sustainable and forward-thinking approaches and being able to combine passion and profession. Since years, I follow a plant-based lifestyle and think that a change towards more plant-based consumption is necessary for our planet and health.
My PhD project (ESR 6) is about the chemistry behind flavor of fruit-, vegetable- and legume-based food systems linking instrumental and sensory measurements with the University of Copenhagen as host institute. During the next three years I will closely work together with Döhler, Unilever and Greenyard Prepared.
The combination of volatile analysis by GC-MS with sensory methods and efficient multivariate data analytical tools (such as PARAFAC2) aims to identify compounds having high-impact on sensory quality like off-flavors. Hence creating a model to predict and explain changes in sensory quality by looking at the volatile profile during processing and storage is a major goal. A special focus will be on shelf-life prediction.
I am happy to answer questions and am open for any suggestions, so feel free to contact me by mail (show email).